Random Update
I've been fairly busy lately, and egregiously neglectful of all things blogger. It's a lot easier to keep track of other people's work online than to be regular about posting my own... The
owl paintings
from the previous post were in a show at Gallery 1988 SF. I wasn't able to make it to the opening, but you can see the other work featured in the show,
Back for Seconds, here.
According to their site, my pieces are still up for grabs, so if you want one, call them up!
It was recently my birthday, and I had a really good time going to Disneyland with friends, and then having dinner with my family the following evening. We went to Kinokunia bookstore in Downtown L.A., where I purchased a couple of storyboard books of my favorite
Miyazaki
movies-
Spirited Away
, and
My Neighbor Totoro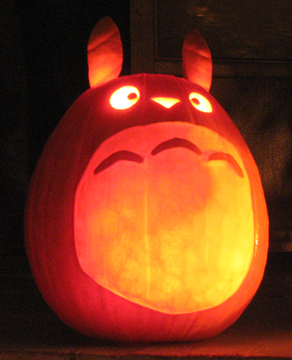 Totoro Jack-O-Lantern
(I didn't make this, but I wish I had)
I also bought a new sketchbook with paper that I like, that takes watercolor well, without buckling too much... I have some
Dr. Ph Martin's concentrated watercolors
, and have been trying them out in my new book. The colors are vibrant and fun- if anyone uses these, I would appreciate any advice on technique, or examples of artwork that has been done with these kinds of watercolor.
Here's some of the stuff that I've been doodling lately:
On a random note, I discovered that my
Mari Inukai
cat-ring-holder took a liking to my Anna Sui perfume bottle...

No, I didn't stage this, just noticed it was like that last night-
Creeepy!